Sustainability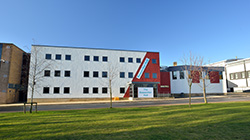 The University of Huddersfield is committed to the environment in the way it manages the campus.
Aspiring to reduce the environmental impact of our students and members of staff, by generating environmental improvements.
The University's aim is to reduce its carbon emissions by approximately 30% by 2020.
Should you wish to contact any of the Sustainability Team directly further details can be found on the contacts webpage.



Did you know?
Our Catering Services has been operating on Fairtrade principles since 2003. We only purchase free range eggs and sell a range of organic and ethical products.
Our air cooling systems run using canal water, a renewable resource, for over a third of our buildings.