Go Green
Engaging Staff and Students
Go Green is a way to engage with staff and students with the aim of embedding a culture of environmental excellence.
Persuading and encouraging staff and students to adopt and sustain green behaviours requires a cultural shift.
The positive cultural, environmental and financial benefits gained from Go Green are significant and can be a powerful agent for staff engagement and empowerment and can deliver a contribution of the University's environmental targets and bring about financial efficiency savings.
Thank you for Going Green.
7 Ways to Go Green
Go Green promotes a set of behaviours:
Switch it off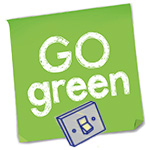 Switch off any unused and unneeded lights and power consuming equipment.
When away from your desk switch off your monitor and lights
Overnight and at weekends switch off your computer, monitor and lights
If you are the last to leave, turn off the printers and copiers
Switch off fume cupboards when they are not in use
Reduce, reuse, recycle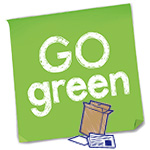 Simply put "use less" where possible
Reusing items and finding new uses for items avoids creating waste
Recycle everything possible
Recycle your packed lunch remains at home if it can't be recycled at work
Reuse envelopes for internal mail and consider if an envelope is needed at all
Think before you print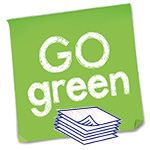 Consider whether you really need to print or copy, print and copy as little as possible.
Edit on screen not on paper
Use email to minimise paper use
Send and store documents electronically instead of on paper
Circulate documents instead of making an individual copy for everyone.
When you print or copy, do it double sided and multiple pages to a page (contact IT support if you need assistance it.support@hud.ac.uk )
Avoid printing in colour wherever possible
Use scrap paper for drafts and messages
Don't waste water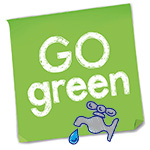 Don't leave taps or laboratory taps running after use.
Do not leave water running from equipment when not required.
If you spot a leak, any unnecessary use of water (eg. if the push taps stay on), a dripping tap or a constantly flushing urinal, report it as quickly as you can to the Estates Helpdesk estates@hud.ac.uk or ext 2550. Report
Plan your journey, share your journey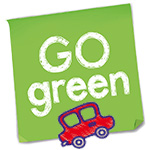 Plan your appointments and trips to avoid multiple journeys wherever possible
Use route planner guides to plan journeys
Try to car-share or consider public transport when travelling to off-site meetings
Do you really need a face to face meeting or would a telephone call be sufficient?
Cycle, bus or car share when commuting to work
Think before you buy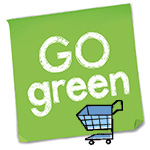 Do you really need to buy it? (think Reduce, Reuse, Recycle)
Can you buy a green version? (contact procurement for advice)
Include environmental factors in your specification when requesting quotes or tenders
Speak up and challenge
Take responsibility and positively challenge poor environmental practice
Encourage and help colleagues to adopt the Go Green behaviours
If you see an opportunity to reduce our impact on the environment, speak up and let someone know, contact the Estates Helpdesk estates@hud.ac.uk or ext 2550.