Cleaning Services
Cleaning Management Team
The Cleaning Managament Team, Sarah Hodgson, Mick Hall, Christine Ellis, Colin Arundel, Kay Booth, Anita Binns, Elaine Davies
The Cleaning Services Management Team and administration is located at Atkinson Holt.
The Cleaning Services team is managed by the Cleaning Services Manager supported by an Assistant Cleaning Manager and a team of Cleaning Coordinators who aim to promote a professional cleaning service that supports the expectations of University students, staff and visitors. The cleaning team are provided with up to date equipment, training and methods to facilitate a clean, safe and well-presented University.
Contract cleaning services are used for external window cleaning and other specialised cleaning requirements as required.
For any cleaning queries contact the Estates Helpdesk .
‌
Operational hours
The cleaning team work between 6:00am and 8:30pm Monday to Friday
Student Central and Sports Centre receive a cleaning service from 6:00am - 6:00pm seven days a week
Weekend cleaning is carried out across areas of the campus to support weekend classes, events and external customers.
Additional cleaning for open days and other events can be requested via the helpdesk or directly to Cleaning Services.
Cleaning Team
The Cleaning Service delivery and standards are based on those recommended by the British Institute of Cleaning Science.
The cleaning specification determines how and when cleaning is carried out in the University, this is overseen and monitored by the Cleaning Services Management Team.
The cleaning covers daily, weekly and periodical tasks to maintain an environment conducive to learning, supporting the use of areas and attractive to all users.

‌
Training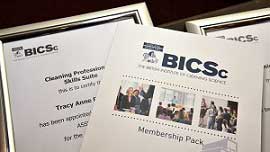 A training and development programme is in place that covers work place Induction with relevant Health and Safety and COSHH.
The cleaning team receive The British Institute of Cleaning Science (BICSc) Cleaning Professionals Skills Suite training and assessment, which is the cleaning industry 'best practice' for training in cleaning safety, efficient methods and use of equipment.