FAQ
Some of the Frequently Asked Questions Below
How do I access my mail off campus?
Accessing your email from off campus is very easy. You will need to open up your preferred internet browser and go to - https://outlook.office.com
To sign in to your account you will need to type in your university email address and password in to the boxes provided and click sign in.
Out-Of-Office Automatic Replies
If you are not able to read your email for a period of time you can set an out-of-office automatic reply to be sent to any mail you receive.
The first stage in setting an out-of-office reply is to click on the settings cog icon in the top right hand corner of your screen.

This will bring up a side menu on the right hand side of your screen allowing you to change various settings. You will need to click on 'Mail' under 'Your app settings' to change your automatic replies. This will bring up a second options menu but on the left hand side of your screen.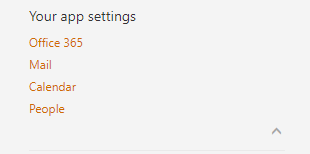 Next, click on automatic replies under automatic processing.

From here, you can choose to send automatic replies. If you choose to turn automatic replies on then you can specify the date and time range you wish the automatic replies to send for and you can also personalise the email you wish to be sent.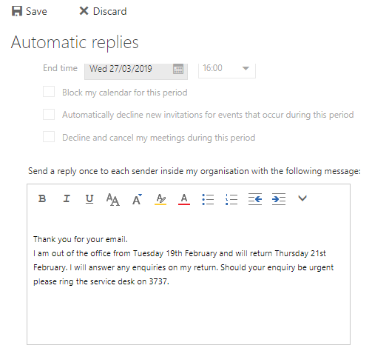 In addition to this you can chose whether or not you wish the automatic reply to be sent to external recipients.

Once you have selected all the correct settings you will need select the save button at the top of the page to save your settings.

Adding or removing shared mailboxes in Outlook
Save
(For Technical Staff) Things to look out for
Common Issues:
If staff experience any issues with their mailbox, the first thing to do is re-create their mail profile. Also ensure you delete any old mail profiles that may be lingering around on the pc.
The mail is cached on the machines and depending on the size of the mailbox it can take a while for messages to be synced. The advice is to ask staff to be patient and often leaving things for a few hours is the best thing do to allow things to settle down. The same applies for shared mailboxes and mail will be cached on the machines.
If staff have used their university email address on other microsoft related services, then, as part of the mail profile creation there is usually a prompt asking if the account is a 'work or personal account'. 'Work' needs to be selected. However, this prompt does not always appear or can take several reboots or repeating the process of deleting and recreating profiles before it appears. Please note in this situation email will only work properly until this 'work' option has been selected. This is a tricky one and is difficult for us to make any kind of predictions on as we don't know which staff may have used their university email address elsewhere.
If email appears to be sitting or getting stuck in the outbox then delete and re-create the mail profile.
Shared mailboxes instructions can be found on the Office 365 FAQ website.
Some shared mailboxes may have issues with their user permissions as they could be missing user permissions of staff who previously had them. Please call IT Support who can check the permissions. For your information, permissions will now be managed through ad groups.
Shared mailboxes cannot now be opened independently. They need to be added as part of a user mail profile. When adding a shared mailbox, the user needs to sign in using a different account, using their personal staff e-mail address and password to add the mailbox.
Accessing mail on unidesktop is now only available via the web client. The full client is not available on unidesktop due to caching issues. When logging into email externally via the web, for some users it is capitalising the email address and not allowing the users to login. Access via unidesktop works fine.
There has been a change to the way email Distribution Lists are managed under Office365. The DL manager can now add\amend\remove users to the DL via the https://eac.hud.ac.uk/ site. Please contact IT Support if you require access to DL management.