Research Excellence Framework (REF) 2021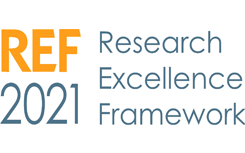 The Research Excellence Framework (REF) is the system for assessing research in UK higher education institutions (HEIs) and is carried out every six or seven years. The first REF took place in 2014 replacing the Research Assessment Exercise (RAE), and the next is planned for 2021.
The University makes an institutional submission to REF which is broken down into disciplinary units, known as Units of Assessment (UoAs).
Historically REF has had three main purposes:
providing accountability for public investment in research
providing benchmarking information
informing the selective allocation of funding, known as QR Funding
A review of the REF in 2015, led by Lord Stern, identified three further roles of the exercise:
providing a rich evidence base to inform strategic decisions about national research priorities
creating a strong performance incentive for HEIs and individual researchers
informing decisions of resource allocation by individual HEI


REF 2021 assessments
REF assessments are a process of peer review, carried out by an expert sub-panel in each UoA. Every element submitted to the REF will be graded on a scale from 4* (world leading) to unclassified (did not meet the REF criteria).
REF2021 will consist of three main elements:
Outputs
This makes up 60% of the assessment (a decrease from 65% in 2014) and consists of outputs produced by the University during the assessment period (1st January 2014 to 31st December 2020).
Impact
This makes up 25% of the assessment (an increase from 20% in 2014) and consists of case studies detailing the benefits from our research. It is important to note that the impact stays with the institution where the research was carried out, i.e. it doesn't move with the member of staff.
Environment
This makes up the remaining 15% of the assessment and describes the environment we have to support our research. This includes research strategy, staff development and support for PGRs, collaboration both inside and outside academia and equality and diversity. It also includes data on research income and post-graduate degrees awarded.
The grades that we receive for each of these elements contributes to an overall grade point average (GPA). We are given a GPA for each UoA and for the University as a whole. These GPAs are then used for calculating the amount of QR funding the University receives and by a number of league tables.
Changes since 2014
The major review of the REF, carried out in 2015 by Lord Stern, has resulted in a number of changes to the exercise to be carried out in 2021. The significant changes include:
REF2021 will not be a selective exercise as REF2014 was; we will be required to include all staff who have a significant responsibility for research
we will submit a pool of outputs produced at Huddersfield during the REF period, rather than (normally) four papers per person as in 2014. This will need to include one paper from every person in post on the census date (31/07/2020) but can also include outputs from staff who have left the University.
there will be a broader definition of impact to emphasise public engagement and to include impact on teaching
If you have any queries about REF or how the University is preparing email Kirsty Taylor, Head of Research Intelligence k.e.taylor@hud.ac.uk