Integration With Microsoft Outlook
Overview of Features
Microsoft Lync integration with Outlook allows you to view the availability of your contacts via presence.
You can call or instant message a contact directly from Outlook with audio and video capabilities.
Integration with your Outlook calendar automatically updates your presence according to scheduled appointments and Out of Office settings.
Keep a record of incoming, outgoing, and missed calls and instant message conversations in Outlook.
Send an E-mail from an Instant Messaging Session
In an instant message, right-click the name of the participant you want to send an email to.
Click Send an E-mail Message.
The Outlook Message window appears with the contact you wish to message in the To field.
Send an Instant Message or Call a User from an E-mail
Open an e-mail from the contact you wish to Instant Message or Call.
Click IM or Call in the Respond section of the ribbon.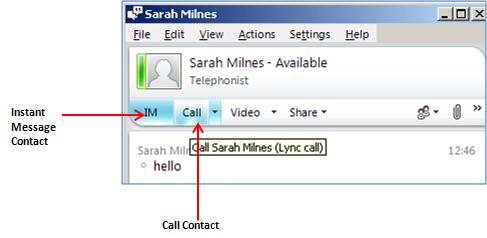 Alternatively, click the status indicator next to the contact's name, and select whether you wish to Reply with Instant Message or Call that contact.
A Communicator instant message or call window will open depending on your selection.
Conversation History Folder
Microsoft Lync keeps a record of instant messaging sessions, phone calls and forwarded calls in a folder in Outlook called Conversation History. A record of missed calls, voice mail and missed conversations is saved to your Inbox.
Each item in the Conversation History folder contains:
Time and date of message
Conversation subject
Conversation body
Participant names
Direction of conversation (incoming or outgoing)
In addition, the Conversation History folder contains information about any conversations that included audio, and a complete record of all instant messaging conversations.
Find Previous Conversations
In Microsoft Lync, right-click the contact(s) whose conversations you wish to find.
Click Find Previous Conversations
All mail items saved in Outlook between you and the selected contact(s) are listed.