Personalise Your Contact Information
You can personalise your contact information such as your location, phone numbers, and presence information. For example, you can add your mobile phone number and make it available to close contacts only.
To add a personal note that lets other people know what's happening today:
In the Lync main window, click the note box above your name, and then type a note, eg: 'I am away from the Office this afternoon'.
To remove a personal note, clear the note box so it's blank (delete the contents of the note box).
To set a location to let people know where you are today, click the arrow next to Set Your Location or type in your current location, and then, in the location menu (˅), click Show Others My Location.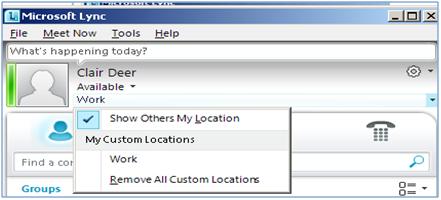 2. To add your phone number, click the Options button

, and then click Phones.
3. Click the button for the phone number to add (such as Work Phone or Mobile Phone).
4. In the Edit Phone Number dialog box, type the number, and then click OK.
5. Select the Include in my contact card check box, and then click OK.

Please note: If work number and mobile number are unable to edit/add as both greyed out, go to Microsoft Outlook then contacts listed.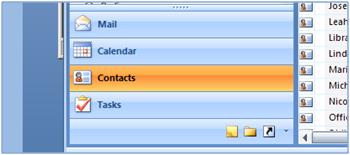 Find your own contact card and double click to open then delete your phone or mobile number, then go back to Microsoft Lync and box will now be visible to click on. Enter number required then click ok to save.
Once saved re-enter numbers required on contact card in Microsoft Outlook.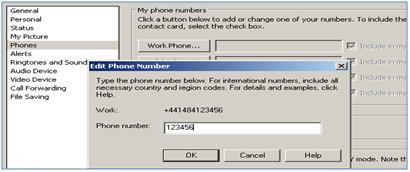 To change privacy relationships for the people you want to see your personal phone numbers, right-click the contact's name in your Contacts list, click Change Privacy Relationship, and then click one of the options eg: Colleagues