Change The Privacy Relationship
To view your contacts according to their privacy relationships, do the following:
Click the Relationships button in the area just above your contacts (other options are Groups and Status).
To change the privacy relationship you have with a contact, do the following:
Open Lync 2010, and, in your Contacts list, right-click a contact, point to Change Privacy Relationship and then click a new privacy relationship for the contact.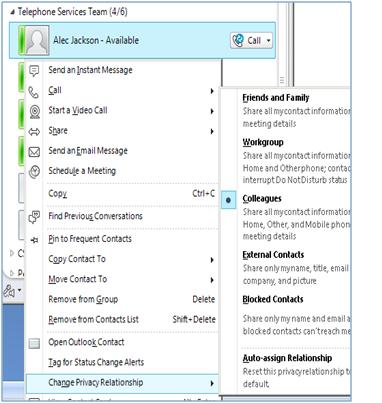 By default, contacts are assigned the Colleagues privacy relationship when you add them to your Contacts list. If you have any contacts that you've subsequently assigned to another relationship, you can change the privacy relationship back to Colleagues by clicking either Colleagues, or Auto-assign Relationship.