Athena SWAN Gender Equality Award
The University has been a member of the Athena SWAN Charter since 1st October 2015 and in 2020 renewed its Bronze Award for Gender Equality.
The School of Applied Sciences holds a departmental Athena SWAN Silver Award and Huddersfield Business School and the School of Music, Humanities and Media each hold a departmental Athena SWAN Bronze Award. The other Schools are all working towards applying for a Bronze Award.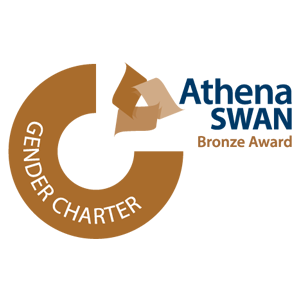 As a member of the Athena SWAN Charter for gender equality, the University of Huddersfield determines its priorities and interventions, by committing to:
adopting robust, transparent and accountable processes for gender equality work, including:

embedding diversity, equity and inclusion in our culture, decision-making and partnerships, and holding ourselves and others in our institution/institute/department accountable
undertaking evidence-based, transparent self-assessment processes to direct our priorities and interventions for gender equality, and evaluating our progress to inform our continuous development
ensuring that gender equality work is distributed appropriately, is recognised and properly rewarded

addressing structural inequalities and social injustices that manifest as differential experiences and outcomes for staff and students
tackling behaviours and cultures that detract from the safety and collegiality of our work and study environments for people of all genders, including not tolerating gender-based violence, discrimination, bullying, harassment or exploitation
understanding and addressing intersectional inequalities
fostering collective understanding that individuals have the right to determine their own gender identity, and tackling the specific issues faced by trans and non-binary people because of their identity
examining gendered occupational segregation, and elevating the status, voice and career opportunities of any identified under-valued and at-risk groups
mitigating the gendered impact of caring responsibilities and career breaks, and supporting flexibility and the maintenance of a healthy 'whole life balance'
mitigating the gendered impact of short-term and casual contracts for staff seeking sustainable careers.
The University Equality, Diversity and Inclusivity Enhancement Committee (UEDIEC) is the umbrella group which undertakes the responsibilities of the Athena SWAN self-assessment team (SAT). The UEDIEC supports Athena SWAN activity in the academic Schools. Each School has their own Athena SWAN SAT or an Equality, Diversity and Inclusivity Committee which undertakes the responsibilities of the SAT.
If you wish to find out more about the work being undertaken to implement the Athena SWAN action plan then please contact the Athena SWAN Lead.
University Athena SWAN Bronze Award for Gender Equality 2020 submission
Women's Staff Network
The University welcomes and supports the development of staff networks. Our staff networks provide an opportunity for staff who share a protected characteristic to network, obtain peer support and share information. They can also offer opportunities for staff to inform university policy on equality-related issues and topics. The networks are run by and for the members, with support from the University EDI Officer.
The Women's Staff Network was formed in April 2019. Members come from across the University and from a variety of roles and the network is always looking for new members and ideas. Please take a look at the terms of reference and contact one of the Co-chairs if you are interested in joining or would like to find out a bit more about the network, including future meeting dates.
Ruth Brooks (Chair)
Aurora – Women's Leadership Programme
Aurora is Advance HE's leadership development initiative for women. It is run as a unique partnership bringing together leadership experts and higher education institutions to take positive action to address the under-representation of women in leadership positions in the sector.
To find out more about the programme, please look at Advance HE's website: Aurora or contact the University Aurora Champion
Menopause
The menopause is when a person who menstruates stops having periods. Periods usually start to become less frequent over a few months or years before they stop altogether. Sometimes they can stop suddenly.
The menopause is a natural part of ageing that usually occurs between 45 and 55 years of age and in the UK, the average age for the menopause is 51. However, around 1 in 100 experience the menopause before 40 years of age. This is known as premature menopause or premature ovarian insufficiency.
The University is committed to supporting staff who are experiencing symptoms of the menopause, or those who are affected by colleagues or loved-ones going through this transitional period. Menopause Awareness Month is an opportunity for us to highlight the information and support available to staff.
Menopause Talk and Support Sessions
The Human Resources Group host regular Menopause Talk and Support sessions for staff. It is recognised that peer support is an important way of supporting people through the menopause and these sessions provide a forum to talk about the menopause and share experiences. Everyone is welcome, whether you're experiencing symptoms yourself and want to meet others in a similar situation or if you would like to understand more about the menopause to support others. Due to the COVID-19 pandemic, the sessions are currently being held online.
For more information about the Talk and Support Sessions, please email staff.wellbeing@hud.ac.uk
Line Manager Support
Following on from Line Manager training in October 2021, the following documents are available to support Line Managers and staff. These were provided by Henpicked : Menopause in the Workplace, and are a great source of guidance:
Further Information and Support
Breastfeeding Statement
The University campus is breastfeeding friendly and there are no restrictions on bottle or breastfeeding at the University.

Members of staff are responsible for communicating their requirements for breastfeeding and expressing facilities to their line manager, prior to their return to work or for undertaking any Keeping in Touch Days. Where facilities are required, it is the responsibility of the line manager to identify an appropriate room, as close to where the member of staff is working, as is practicable.

Members of staff are responsible for ensuring any facilities used for breastfeeding or expressing are left clean and tidy for the next user. There are no storage facilities for breast milk available on campus.
Please note: On return to work from maternity leave, the original risk assessment, which forms part of the Maternity Information Pack, should be reviewed and revised accordingly.